WELCOME TO LE MOULIN
Scroll down or click on links below to find out more about your stay
We offer a variety of accommodation at Le Moulin which includes single and shared rooms, plus Moulin tents, with the possibility to come in your own tent for certain retreats.
Rooms
Each floor in the main house share 2 bathrooms and 2 toilets.
We have 9 single ensuite rooms attached to the Tara hall.
We provide all bedding and bath towels for all rooms.
For more photos of accommodation at Le Moulin please go to Gallery.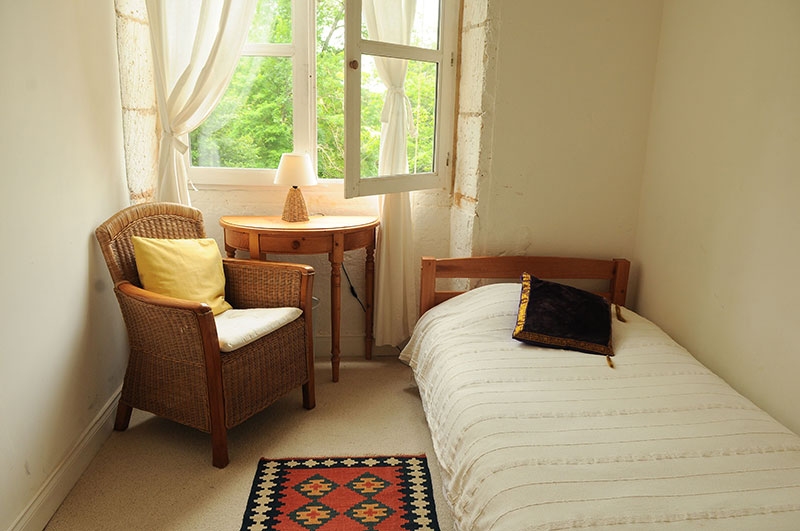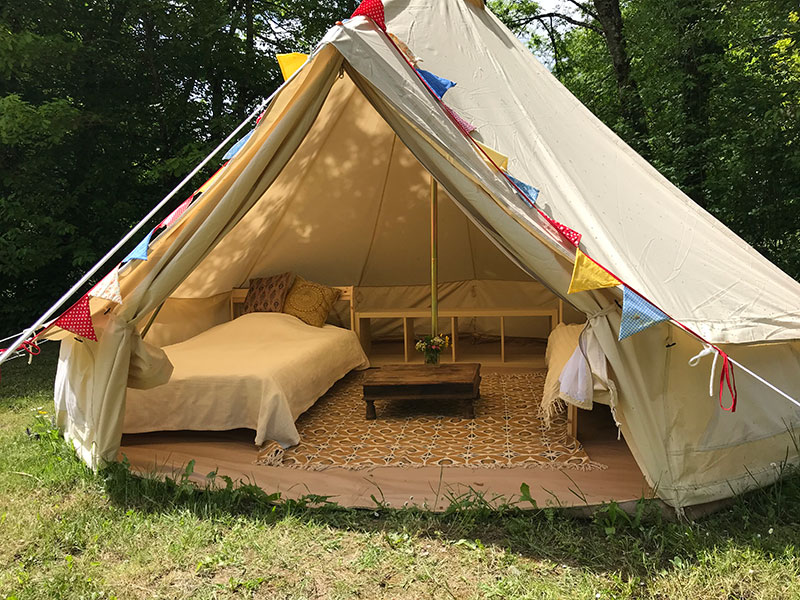 Moulin tents
If you choose to stay in a moulin tent, we will provide you with everything. A bed (yes a bed!) quilt, bedding, lighting, torch, towel, and anything else to make you comfortable. The tent will also have space to keep your luggage and belongings.
Camping in your own tents
If the retreat you choose gives the option to camp in your own tent, you need to bring everything: tent, ground sheet, warm sleeping bag, towel, toiletries and anything else to make you comfortable. As the weather can be changeable, we highly recommend you bring a warm jumper or fleece, even in the summer time.
During your stay here, you will be offered three healthy and tasty, and nutritionally balanced vegetarian/vegan meals, using organic and locally sourced ingredients as much as possible.
All the meals are served outside in a buffet style. Breakfast includes, fruit, muesli, porridge, bread and spreads.
The main meal of the day is at lunch time with a salad, main dishes and dessert.
The evening time you are served a lighter supper of soup and bread.
For those who have specific dietary requirements, there is a space to mention that on the application form. The kitchen will provide a simple alternative of steamed vegetables, a protein plus carbohydrate. Please bring your own supplements if needed.
Hot drinks are available all day.
All meals are included in the price you pay at booking which is all-inclusive.
Meals at the moulin are plant based and gluten free. Dishes containing gluten, dairy and eggs are served separately.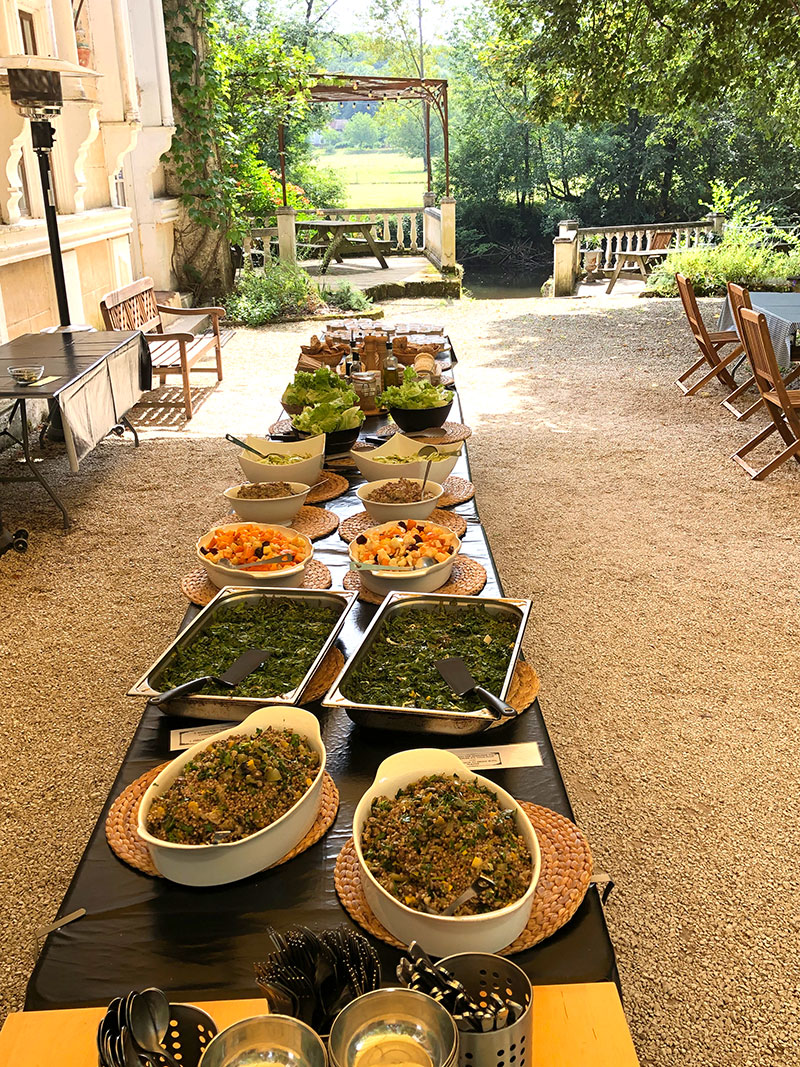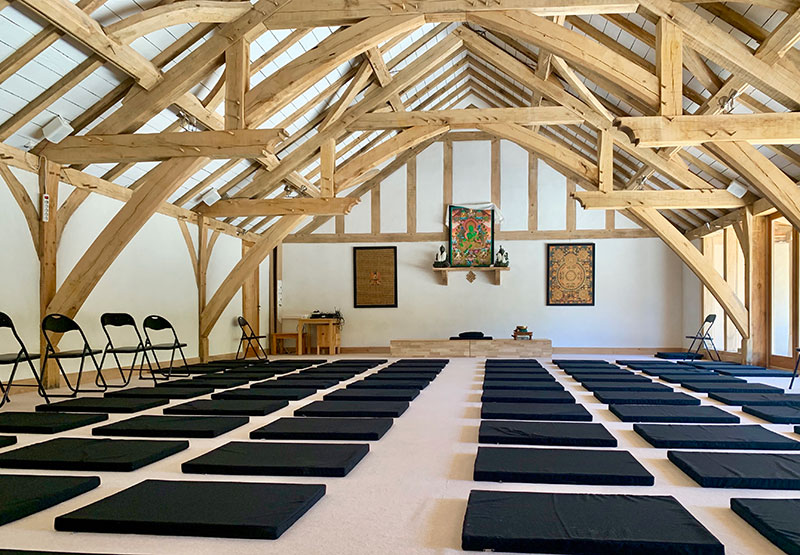 As well as providing bedding and organic bath towels for the rooms and moulin tents, we also provide meditation mats, meditation cushions, chairs and shawls.
We have enough yoga mats for up to 30 people plus 30 bolsters. We do not provide any other yoga props.
Please wear modest, loose and comfortable clothing. 

The Meditation hall is a consecrated place of practice, with certain Buddhist protocols; In the hall please wear loose, modest clothing covering shoulders and thighs.

Your own toiletries including soap
Indoor shoes/slippers for the main building
Appropriate clothing for cool and hot weather
An alarm clock, which is not a phone (to help with distractions!)
A European power adapter
If camping in your own tent, all camping equipment, towels and toiletries
Mosquito repellent
Water bottle or sealed cup. Only these can be allowed in the Tara hall.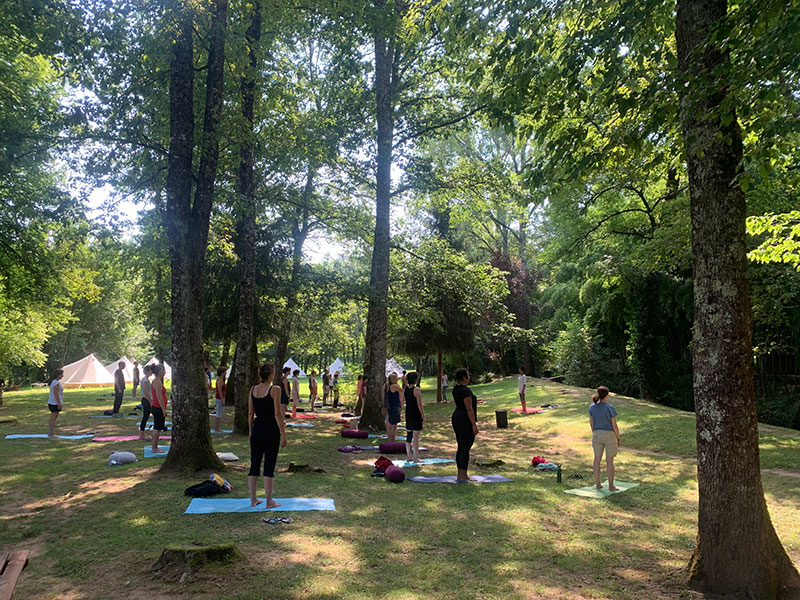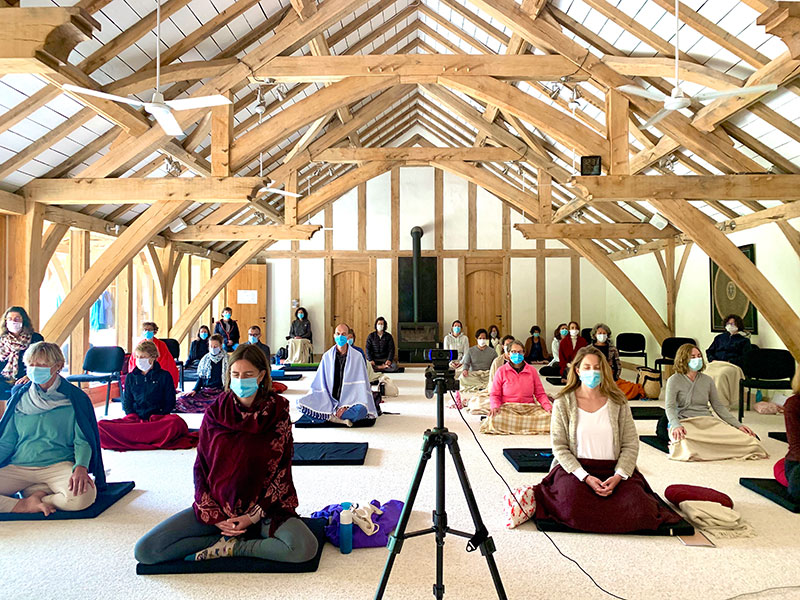 WHAT TO BRING DUE TO COVID

Due to the Covid situation, we now as that you bring the following:
Your own tea cup and water bottle (in the meditation halls, please use only sealed containers)
 A self-test to perform midweek
Sufficient masks to wear in the kitchen and for serving at meal times.  We ask that you bring FFP2 masks.
For more information see our Covid Guidelines page.
Arrival day is the first day of your retreat, not the day before. Please arrive between 14h00 and 19h00, not any earlier than 14h. 
If you will arrive later than 19h00 please let the office know. We will leave a note on the main notice board in the main building directing you to your room.
Supper is served between 18h – 18h30 on the arrival evening.
The retreat will start at 20h00 .
Departures take place on the last day of the retreat (not the following day).
On your departure day the final session normally ends at 12h.  We ask that you vacate your room by 10h. You are welcome to stay for lunch and we ask that you leave the property by 14h.
It is only possible to arrive earlier or stay on later than your retreat dates if  are attending another retreat.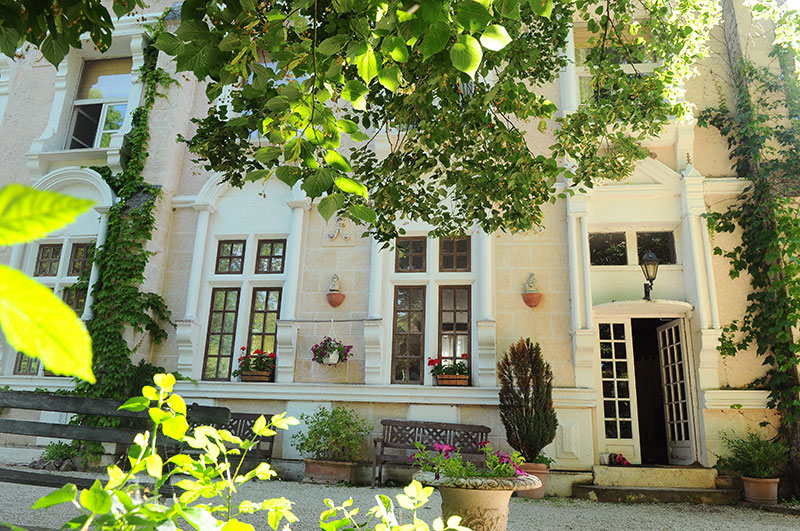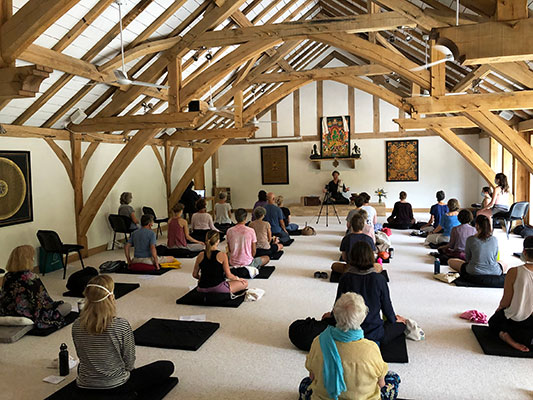 TYPICAL RETREAT SCHEDULES
For an example of a typical opening day schedule, please click here.
For an example of a typical daily schedule, please click here.
For an example of a typical closing day schedule, please click here.
Please note that these schedules will apply to most Moulin retreats. For retreats where a teaching fee has been paid (not Dana), please check  with the retreat organiser or teacher for the retreat schedule.
KARMA YOGA – GIVING OF SERVICE

Moulin de Chaves is a non profit Association. For most retreats everyone will contribute a small hour each day to support the maintaining and caring of le moulin. It is also a wonderful opportunity to practice mindfulness with a simple task with the silence and support of other practitioners. This may be anything from washing up, veggie chopping, cleaning, or gardening. We thank you in advance for this offering.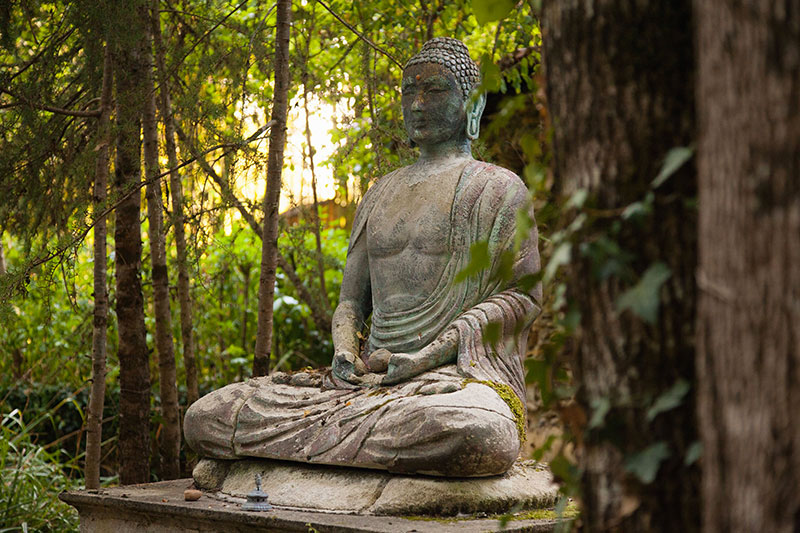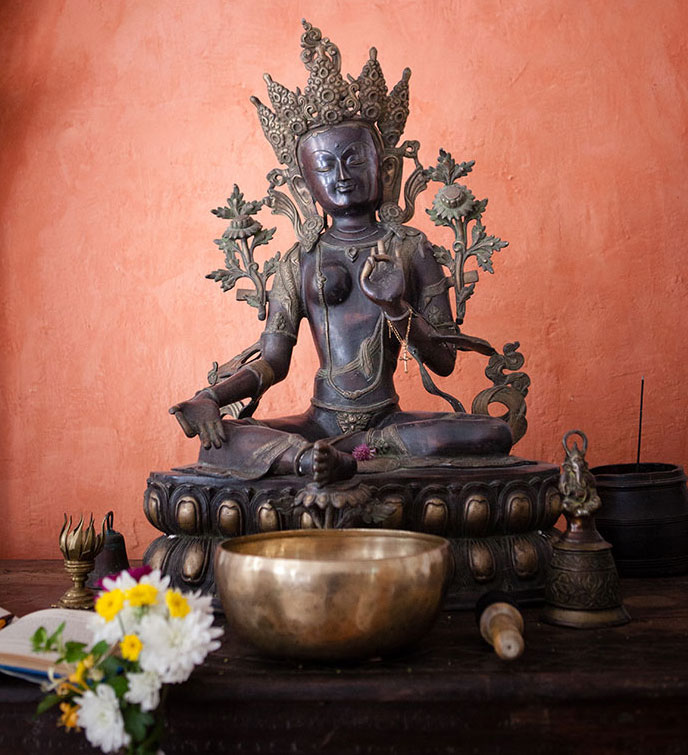 Please read and follow the guidelines listed below. They are there for the benefit of all of us.
MOULIN GUIDELINES
 Welcome to Moulin de Chaves 
Moulin de Chaves seeks to offer a retreat environment, teachings and practices to support Freedom and Awakening. Our practice consists of skilfully meeting and inquiring into all of life: in silence and in communication, in solitude and in community, in simplicity and also amidst various daily complexities. Living here together we all need to take care with our actions and intentions; the following rules and reflections are intended to support the safety and ease of all of us.
~
The basis of any spiritual practice is bringing sensitivity and care to life. We use the 5 Buddhist virtues as a basis for this, undertaking together to honour all life here, to respect each other's being and property, to safeguard honesty and trust, and to be with our hearts and minds as intimately and directly as possible, for the awakening of authentic wisdom and compassion.
The daily schedule is posted on the notice board at the entrance to the community hall. Visitors are expected to participate fully. This supports the sincerity and commitment of each one of us.
For all of us, our working meditation is an important aspect of Dharma practice here. We are asked to bring the same care, connection and interest to our work as in all other areas of life here. If you are unsure about any aspect of your work period, please just ask one of the manager team.
The House guidelines posted below and on the notice board are for the harmony and ease of all of us. Please read and follow them fully.
We wish you an insightful and nourishing stay with us.
HOUSE GUIDELINES
Please read and follow the guidelines listed below. They are there for the benefit of all of us.
Thank you for respecting the privacy of those who live and work here full time and do not go into areas marked "private".
During your stay here, the consumption of alcohol and drugs is strictly forbidden.
If you have arrived late for a retreat at Le Moulin, check the notice board in the main entrance hall, to find out where you will be staying. Remember to present yourself to the office the next morning to register.
Thank you for not wearing shoes inside the main house and in the meditation hall. Leave them neatly on the right-hand side of the main entrance hall. Communal slippers are available.
Due to Covid we ask that you now bring your own cup with you.
There is free wifi, and a computer is available in the office area 1st floor, at lunchtimes only. Please use only if necessary.
Keep the library tidy, returning books to the right section when finished, indicated by the coloured dots. Please do not leave books outside.
The kitchen area is off limits unless you are working there. It is forbidden to go into the kitchen and help yourselves to food at any time.
Keep communal areas clean and how you would wish to find them, especially toilets and bathrooms. Try to avoid going into them whilst they are being cleaned during the Karma yoga/work period.
Remember to turn lights and heaters off when they are not being used.
People staying in the main building 2nd and 3rd floor, please walk quietly and lightly. As it is an old building footsteps can be heard clearly below.
Sleeping areas will be silent at all times and if you are sharing a room, lights should be put out by 23h00, out of respect for the others.
If there are queues in the main house for showers, there are 3 showers and 4 toilets in the adjacent outside toilet/shower block. So as not to disturb others, do not use the showers or flush the toilets after 22h30 (unless it is necessary)
It is advised not to bring food into rooms as it can encourage mice.
If you decide to go swimming, you do so at your own risk. Please tell someone you are going and swim only during free times. Wet swim wear and towels should be dried on the washing lines, and not left to dry around the house and gardens.
A first aid kit is found in the downstairs toilet/shower block. In case of emergencies there is a doctors and pharmacy in the village.
If you smoke, please do so in the specified area, which by the front gate only and dispose of your cigarette ends carefully.
PLEASE NO CANDLES, NO INCENSE, NO FIRE OF ANY KIND is allowed anywhere in the house or on the grounds of Le Moulin.
The Moulin de Chaves operates as a French registered Non Profit Association (loi 1901). In order to maintain this status, all activities are offered as a service to Association members. The annual subscription of €10 allows us to offer events at the Moulin for the lowest possible cost. Without membership, we would have to operate as a profit-oriented, tax-paying organisation.
By becoming a member of the Association Moulin de Chaves, you automatically get signed up for our newsletter. If you don't wish to receive them, you can unsubscribe.